5 TAKEAWAYS | How the Use of Technology is Important for the Growth of Your Hospitality Business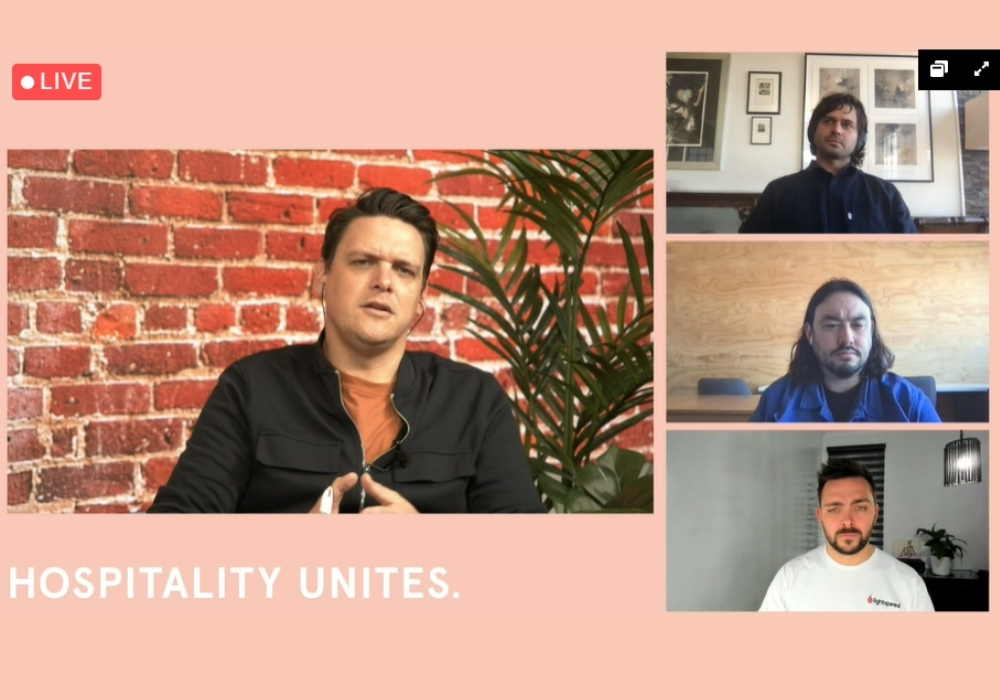 With so many different platforms available to use, it can be confusing to know which hospitality technology is right for your business. Hear from an expert panel as they discuss how to navigate these technologies and use them to help grow your business.
Hear what was discussed and more in our Hospitality Unites 2021 panel discussion. If you missed the session or would like a recap, check out our 5 takeaways below!
1. What parts of the hospitality industry needed to be rebuilt from a tech standpoint?
The start of the pandemic saw the rise of technology adoption across many hospitality venues that were significantly behind the times. Our panelists touch on what parts of the industry needed to be rebuilt and how Covid accelerated these innovations into the industry. Mobile ordering was seen as one for many businesses were dipping their toes into it but not committing, it was not until COVID hit that many businesses had no other option but to get on board and embrace the technology.
Daragh Kan, Product Manager at Mr Yum commented, "The hospitality industry didn't have the advantage that a lot of other industries who had used technology for years such as airlines and hotel providers…venues need to look at embracing technology across all facets of the hospitality industry".
2. What are some of the common barriers faced in introducing technology platforms in hospitality?
Rapid innovation in technology and constantly changing consumer needs and expectations requires businesses to constantly adapt and be agile. However, for hospitality businesses which are constantly in service and rely on a small workforce face a number of barriers when it comes to introducing new technological platforms.
Joshua Harrison, VP Hospitality at Lightspeed explained that many owners are under the impression of "if it's not broken, don't fix it", which prevents many businesses from trying to adopt these technologies as its not the highest in their priority list.
Daragh noted that many business owners are apprehensive to implementing new technology for the fear that it can take away the 'magic' of their in-person service. Therefore, it is the technologies responsibility to be a tool in making the customer experience better, not taking away from it.
Jordan Murray, CEO and Co-founder from Supp explained that one of the most common barriers faced by business owners is finding the time to implement these new changes. Often businesses are set in their ways and they lack the resources to efficiently implement these new technologies.
 
3. How can the use of this technology help in growing your business?
The implementation of technology platforms such as Mr Yum, are helping business have access to data that is seamlessly integrated into all facets of their business so that they can focus on the most important things.
As stated by Daragh "It is about reducing the amount of work that venues have to do and presenting them with the data in a way that is on a plate and ready to go". This type of technology platform is extremely beneficial for businesses marketing efforts as it can assist in pulling data straight into advertising platforms to create targeted and profitable social ads.
4. How can venues stay agile and adapt as the industry constantly evolves?
As the hospitality industry continues to change and evolve drastically, our panelists touch on the most integral ways venue owners can stay on top of trends and evolve with rather than against the industry.
"Find a technological service provider that is fast moving and will listen to your individual businesses' needs." (Daragh Kan)
"Throw away the mentality, "if it's not broken, don't fix it"." (Joshua Harrison)
"Maintaining an open mind and being curious will take you down the road of listening to new ideas and picking up new things" (Jordan Murray)
5. The customer experience has to be at the forefront of everything
It appears it is a common misrepresentation that the introduction of technology into hospitality will take away from the consumers experience and remove the human element that makes hospitality so thriving. However, this is not the case. By implementing new technological platforms to assist everyday operations, business owners can enable their staff to focus on in their interactions with the customers while the technology does the rest. As Daragh commented, "It doesn't take away from the magic. You can still give them an experience and have a full tech stack behind you.
Technology should not take over it has to be a combination of the human element and the technology. Taking the staff away from doing repetitive tasks that don't add anything to the customer experience."
Panellists
Host: Shaun De Vries; Co-Founder, Principle of Hospitality
Speaker: Joshua Harrison; VP Hospitality, APAC, Lightspeed
Daragh Kan; Product Manager, Mr Yum
Jordan Murray; CEO and Co-Founder, Supp
A big thank you to our speakers for being a part of the inaugural HU event. If you would like to hear more insights, you can still register to attend the rest of Hospitality Unites – on now until 4.30pm Tuesday 22 June – find more info here.