5 TAKEAWAYS | How to Scale Your Business Without Losing its Identity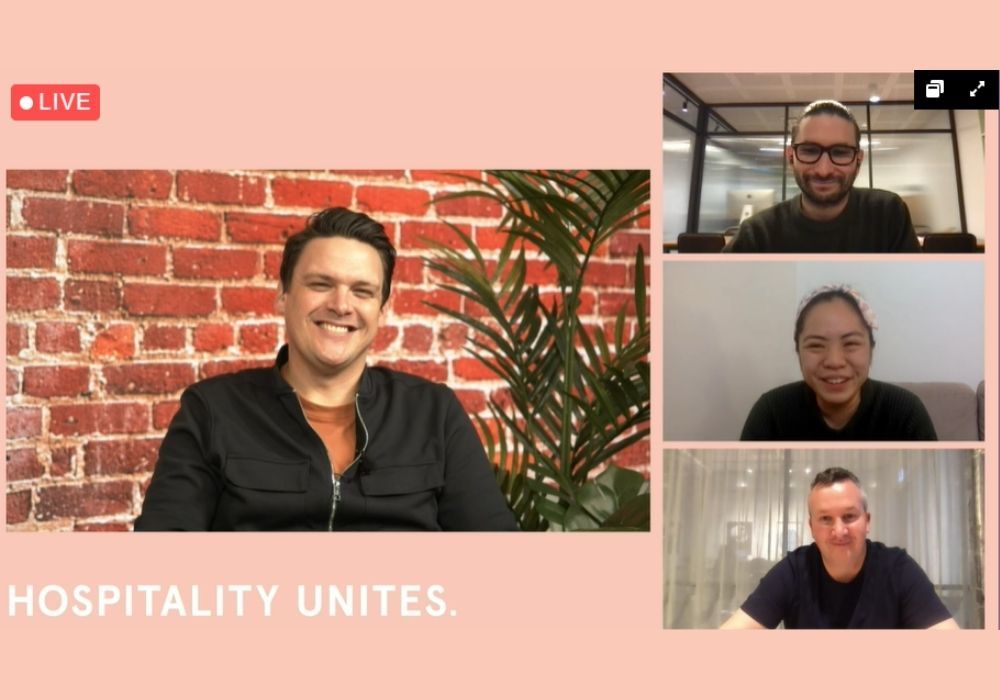 In the last 12 months there have been many ups and downs within the hospitality industry, but coming out of the other side of COVID-19 has seen many businesses grow stronger.
In an enlightening panel session, Co-Founder of Principle of Hospitality, Shaun De Vries was joined a few big names in the industry as they shared how their work life has adapted in recent times to grow with a changing hospitality landscape. Hear what was discussed and more in our Hospitality Unites 2021 panel. If you missed the session or would like a recap, check out our 5 takeaways below!
1. Creating sustainable business platforms
Kay-Lene Tan, Head Chef and Executive Pastry Chef of Tonka and Coda, says that although it has been a difficult time in the industry, it has allowed her workplace to create new systems. They took the opportunity to expand into grocery stores and take-home food. Kay-Lene and her team put their heads together and took the time to construct new business plans that would push them through the tough times.
Having been in the business for many years, Nathan Toleman, Founder and CEO of The Mulberry Group, says it is about how to operate in a world already affected by so many factors and keeping a focus on what matters to them as a business. Nathan asked himself "What is it that motivates us? How can we engage our staff and community?"
Originally, Nathan's business 'Common Ground' was looking to include a revenue stream for visiting chefs, their tact has changed now. Common Ground has become a place where chefs can take from the often-stressful kitchen environment to outdoors where they can learn to grow their own produce.
For Michael Bascetta, CEO and Co-Founder of Worksmith, everything really kicked off in the last 5 years, and specifically the last 12 months, he and his team have been really focusing on what they have rather than looking at more expansion. Michael has realised the importance of creating a legacy business that can keep growing in the future.
2. Choosing the right partnerships for your business
The topic of business partnerships came up a couple of times, both by Shaun and the audience listening in on the session.
In Michael's experience, some of their partners such as ALM and Square payments systems have "…really helped us (Worksmith) get the name out there without changing our identity." Michael explained how they have had to turn down many partnerships as sometimes the conversation is too sales driven – "The strongest thing you can do is say no…even if financially it will hurt." he says, which is especially important when you have a clear understanding of where you want your business to go.
Nathan expressed a similar opinion when choosing partnerships "A lot of partnerships are flattering at the time…but you have to look at it in the long term."
Both Nathan and Kay-Lene felt that partnerships with suppliers have become especially important in the past year, as these suppliers will align with your business about the kind of food you are producing.
Kay-Lene, who has successfully grown her own personal brand across social media, also adds that for her it is about "Keeping in-line with the brand (business) as a whole, not just a personal brand."
3. The importance of teamwork and communication
The sentiment from all our panelists was that their teams are integral to the continuing success of their businesses.
"The relationships that have formed over the year have been most important to me," says Kay-Lene who manages a large team. She found herself asking "For the business, what can we do to help?"
A large percentage of hospitality workers in Australia are visa holders, or temporary residents which meant they were not entitled to government help during lockdown. When pivoting to delivery and grocery stores during lockdown, Kay-Lene's teams stayed working, for example; front of house staff switched to delivery.
"We didn't lose anyone because of COVID…it's the proudest accomplishment that came out of COVID."
4. How to balance different projects, venues & identities
Our panelists either work across or own different brands, and with identity being such a pivotal factor in the success of hospitality venues, maintaining that balance is key.
Nathan says that it is about having the right people in the right place and setting up those important systems from the start. He then finds that stepping back and letting his staff take ownership of the day-to-day decisions works well. This also gives his different venues personality; it is the customers experience that makes a difference. But by keeping those initial systems consistent, he can keep the business organized.
Although not her own businesses, Kay-Lene's name has now become synonymous with Tonka. She focuses a lot of her brand identify through social media, saying "A lot of chefs tend to shy away from social media…" but Kay-Lene uses it as a free marketing opportunity for both her personal brand and her workplace, "…you are always an extension of the business you are working for…it's all about working together and collaborating.".
It took Michael several years to really understand the balance of working across his business, but recently that understanding of the structure has moved them forward. Like Nathan, he says that "The systems of structure remain the same…but the communication channels (across his businesses) are very different."
5. Maintaining mental health in times of pressure
Mental health has been a vital talking point across many industries during COVID-19, hospitality being an important sector to focus on, with many businesses having to close and reopen multiple times.
The panellists shared their insights on how they handle the pressure, and what COVID-19 taught them about maintaining good mental health.
Nathan says "It taught me that nothing permanent, every business has a life cycle…don't get too far from the moment of right now. There are some things you can't control…"
Even after all the worry of 2020, Nathan says it was reassuring that people returned to the city, they came back to restaurants.
Kay-Lene admitted that it has been an incredibly stressful year, that she is a "classic overthinker "and that it is important to take time to do something for yourself and keep busy in order to take your mind off of work sometimes. Also, especially when you are a manager, to try and keep a positive attitude at work, as your attitude may be affecting others more than you realise.
"I think most people would say I'm quite calm and collected…but I have struggled a lot." Said Nathan. For him it has been about centering himself, realising what you are okay of letting go of and focusing on those things that make him happy.
Panellists
Shaun De Vries – Principle of Hospitality
Kay-Lene Tan, Head Chef and Executive Pastry Chef – Tonka & Coda restaurants
Nathan Toleman, Founder & CEO – The Mulberry Group
Michael Bascetta, CEO & Co-Founder – Worksmith
A big thank you to our speakers for being a part of the inaugural HU event. If you would like to hear more insights, you can still register to attend the rest of Hospitality Unites – on now until 4.30pm Tuesday 22 June – find more info here.