5 TAKEAWAYS | Innovating for 2021 and Beyond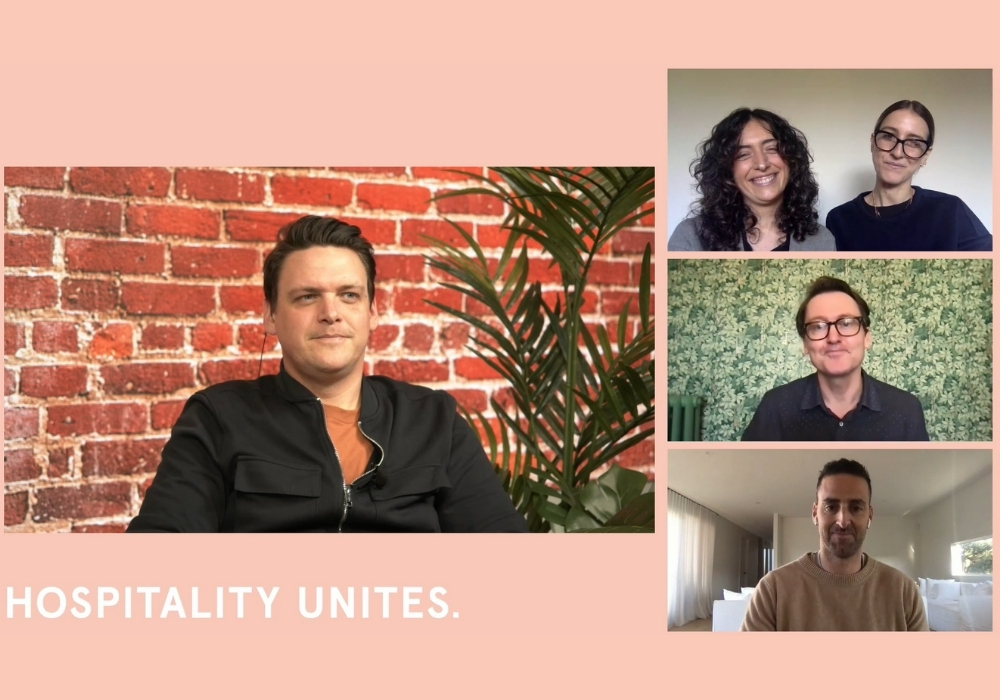 Shaun introduces the final session of the day by acknowledging that the most recent Melbourne lockdown has yet again forced hospitality businesses to reset and innovate.
Innovation has always been important for hospitality business owners, including Danielle Lebon & Natasha Buttigieg, Co-Founders of Co-Lab Pantry,  Dehne Bingham, Founder of Marko, and Julien Moussi, Director of Only Hospitality Group. Hear what was discussed and more in our Hospitality Unites 2021 panel discussion. If you missed the session or would like a recap, check out our 5 takeaways below!
1. What drove you to innovate in the world of hospitality?
Julien shares that he has been innovating and adapting since the day he started back in 2012. According to Julien, "the hospitality industry has changed dramatically over the years", so much so that the days of consumers just stumbling upon a cafe are almost gone. "People go to specific places for specific things" Julien explains. During lockdown last year, Julien was seeing 500-600 people a day ordering a coffee and pastry from his popular cafe situated in Malvern East, due to his team pivoting and being able to keep up with changes in consumer behavior.
Interestingly, after years of being a major buyer in the meat industry, Dehne made the decision to open a plant-based cafe, now known as Marko. For Dehne, innovation came from his desire to "make money by making the world better". Eager to ensure those two things remained mutually exclusive, Dehne admits that the pandemic gave him the time had been longing to think things through and to kickstart his dream business.
Similarly, Dani and Tash shared that it was the emotional aspect that drove them to create their successful startup, Co-Lab. Dani says that it all started by "really honing in on what the actual problem is. We really fleshed it out. As we started to unravel it, we started to piece more and more of it together".
2. Who do you lean on for support?
Unsurprisingly, one thing all four speakers were adamant on is the need for support, particularly during a pandemic.
"We have been lucky, having the 3 of us working together, we can lean on each other. We are all going through it together". Dani and Tash express their gratitude for each other and the rest of their team and credit the success of their business to those around them showing them constant support.
Dehne pays thanks to his entrepreneur wife and business savvy friends for providing him a world of emotional support. "I probably need more emotional support, than being told how to do stuff. My first mistake is to go insular when things get tough, but it's important to have people around you". Dehne also shares that his theme song for opening Marko is 'With a Little Help from My Friends' by the Beatles, which is quite telling of his appreciation for those around him.
Julien admits that "things are never as bad as they seem. I don't feel like I am going to work every day. When I am coming back from holiday, I look forward to it," an attitude Julien urges others to adopt.
3. How do you know if you're making the right decision?
Dani and Tash emphasise the importance of research when answering how to know if they are making the right decision, saying they often reach out to their customers directly for insight. "Listening to our customers, because whether we like it or not, customers are the ones we need to target".
Julien advises that it's "important to fail fast…If you want to keep growing, you have to keep trying new things". He finishes by saying "If you're not embarrassed on the first day, you've launched too late". Julien laughs and explains that sometimes you aren't ready, but you've just gotta get open!
"'I've been doing meat development for 15 years and I've still got no idea", Dehne also finds humor in knowing that he's still working it all out. He admits that things don't always go to plan, which leads him to share that their falafel pita is unexpectedly bringing in 50% of their sales and pushing them to consider using falafel more often.
 4. What are the most exciting innovations coming through in the industry and in your brands?
The change to ordering via technology rather than traditional table service is the biggest innovation in the industry today, according to Julien. A change that Julien admittingly can't decide if he likes it yet, calling it the "necessary evil".
Similarly, Dehne shares the same concern as Julien and worries that QR codes aren't that easy for some generations. Dehne is very interested in multi-channel brands, like Co-Lab, and is eager to see how this innovation will develop. "There are so many distribution channels, how much focus should you put in each, which will rob from your brand and which will put in"
Tash and Dani are enjoying the storytelling element that's quickly evolving in the food industry. "Customers are much more conscious shoppers. They care about the story and the brands they are purchasing from". Tash continues by saying it's about "being able to story tell and get the information across so that the customers can build that connection".
5. What's your one piece of advice for someone looking to get into the business?
"I think you can have a good idea, but you have to be honest with yourself. Is this something I am going to want to do, even if it goes really badly?". Dehne follows by saying "I am going to get up and do it, whether I am feeling horrible about it or over the moon".
"There is a big difference between a hobby and a business". Julien also stresses how important it is to reach out for help, "asking questions is really important, you'll be surprised how much people will do for you. They will go over and above to help, without wanting anything in return".
In agreeance with Julien, Dani and Tash suggest "surrounding yourself with the right network of people. People are really generous with their time and help". Dani and Tash also tap into the reality of owning a business, stating that "it's 24/7. From a facade it looks like its bright shiny lights".
Panellists
Shaun De Vries, Founder – Principle of Hospitality
Natasha Buttgieg, Co-Founder – Co-Lab Pantry
Julien Moussi, Director – Only Hospitality Group
Danielle Lebon, Co-Founder – Co-Lab Pantry
A big thank you to our speakers for being a part of the inaugural HU event. If you would like to hear more insights, you can still register to attend the rest of Hospitality Unites – on now until 4.30pm Tuesday 22 June – find more info here.