POH x Architects EAT: The Legacy of a Brand in The Second Store…
Written by Isabella White
Architects EAT  explain the different approaches hospitality owners can take when designing their second store.
It is a big moment when a business opens their first brick and mortar store; much celebrated, much photographed and much published. The second store, which we will endearingly nickname the middle child, attracts considerably less fanfare. Broadly speaking, there are three ways businesses can approach the design of these sibling stores. Firstly, operators can streamline their brand identity using a benchmark project to replicate across multiple stores. Another approach we've dubbed 'the brand evolution,' is where the second store maintains the theme of a brand, but evolves the store design. The most uncommon method is the creation of distinct identities for each store to expand the customer experience. Using case studies from Architects EAT's twenty years of designing hospitality, we'll look at why different projects and clients chose different approaches for their second (or third, or fourth) store by considering brand, location and budget.
Photo Credit: Derek Swalwell & Chris Murray
Frequently, hospitality operators will use their second store to reinforce a brand identity across multiple locations. Streamlining a fitout to align with a brand can be an effective way to simplify the design and construct process when it is based on a benchmark project. You will have seen this in franchises before, think Boost Juice or KFC. This design tactic focuses a customer's experience on the brand identity. Our long-term client, 8bit Burgers, replicates its brand identity across stores to signal to customers their hospitality offering. The brand's yellow pixelated design is iconic enough to become the identity of the store. As trends and technology change, this tactic often requires a pivot point in the brand's history where a new generation of store design is needed to maintain relevance with consumers.
Photo Credit: Derek Swalwell
A different approach businesses can take is to maintain key elements of a brand, while continuing to evolve the store fitout. This can happen for a few reasons. Sometimes an initial store is reflective of an initial budget, and when a business is ready to expand, so too has the finance for a fitout. This can also be a conscious decision by companies to make sure their fitouts have enough flexibility to adapt to changing trends, or respond to a new location. An example of this is our recently completed kiosk for Machi Machi  in Chadstone Shopping Centre. For the presentation of this kiosk, Machi Machi decided to elevate the customer experience to better reflect the design savvy crowds and surrounding Chadstone tenancies. The new proposal maintained the brand's refined simplicity, but instead of the traditional concrete and timber, used frosted glass to recreate the idea of a heavenly cloud. Customers came to seek out the new consumer experience. Sushi Jiro is another long-term client that maintains core branding elements, but continually evolves store fitouts. Architects EAT has completed three stores with them, each attuned to their location and budget. The key element that repeats throughout the stores is the use of lighting and timber finishes.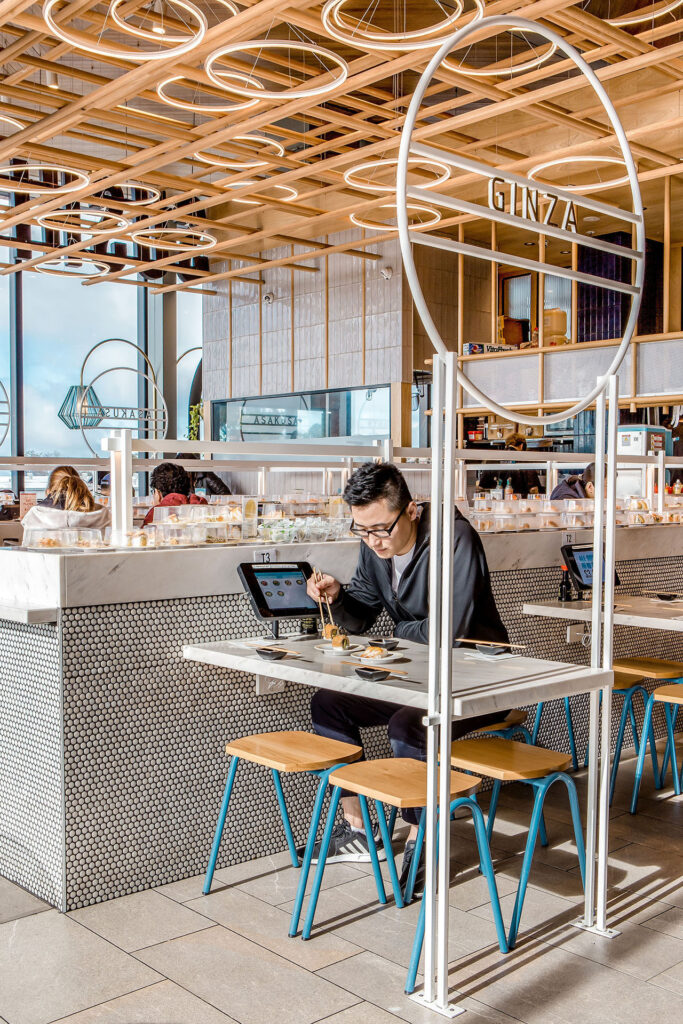 Photo Credit: Chris Murray
Lastly, companies can create distinct fitouts for new store locations, personalising and expanding the customer experience. This approach accepts the brand does not create the identity of a store, but lets the context of each location and budget dictate the offering. Architects EAT has worked to deliver several stores with Crux and Co using this method. The first project, a warm and robust cafe in South Melbourne couldn't be more different to our second project with them, the Cru+ kiosk at The Glen. Where the South Melbourne cafe used materials like concrete and timber, the Cru+ kiosk differentiated itself through the use of luxurious and futuristic finishes. The distinct offerings are a reflection of each store's context. The first cafe was located on a central street, and lured foot traffic in from the street with warm timber finishes. The kiosk was located in the centre of a shopping centre, eye grabbing details had to compete with adjacent tenancies and create a standout moment for consumers.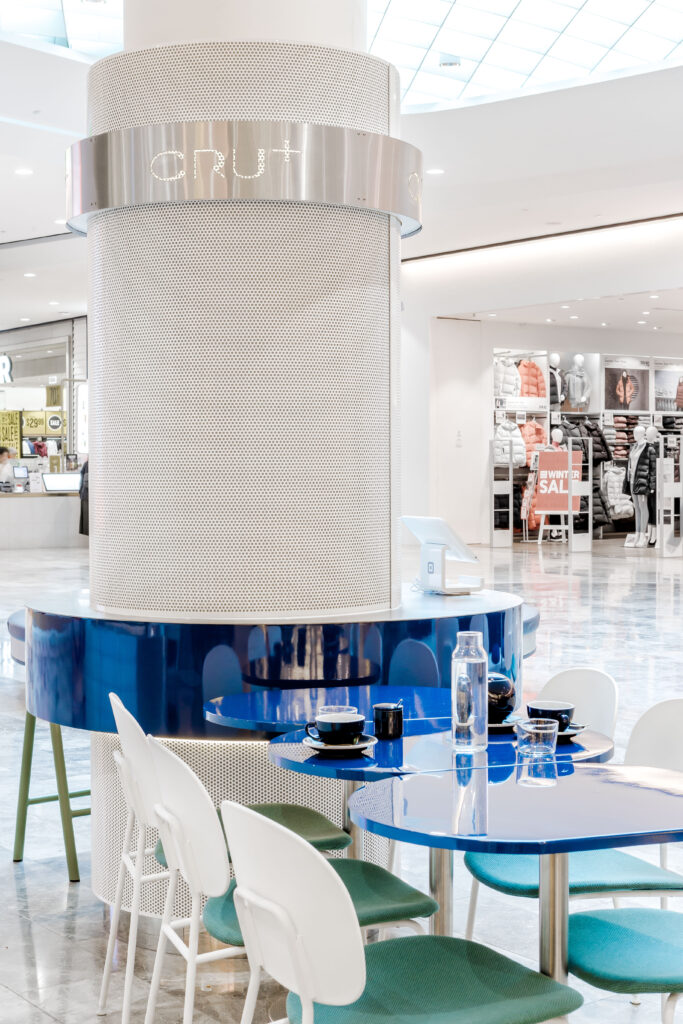 Photo Credit: Chris Murray
Opening a second store can bring about complicated questions of a brand's legacy. New store locations need to balance the physical context of a shop with the impact of the brand. If a singular brand identity is replicated across stores, this can simplify the design and construct process but eventually requires a new offering to maintain relevance with the customer. To avoid this, businesses can approach store design as a gradual evolution, which maintains key branding elements across stores but allows the rest of the fit out to reflect new trends, context or technology. Finally, if businesses are catering for distinctly different audiences, it might be worth considering creating unique store identities. Finding an architecture and interior studio that can guide you on this journey is a way of managing the competing factors of brand, budget and location.